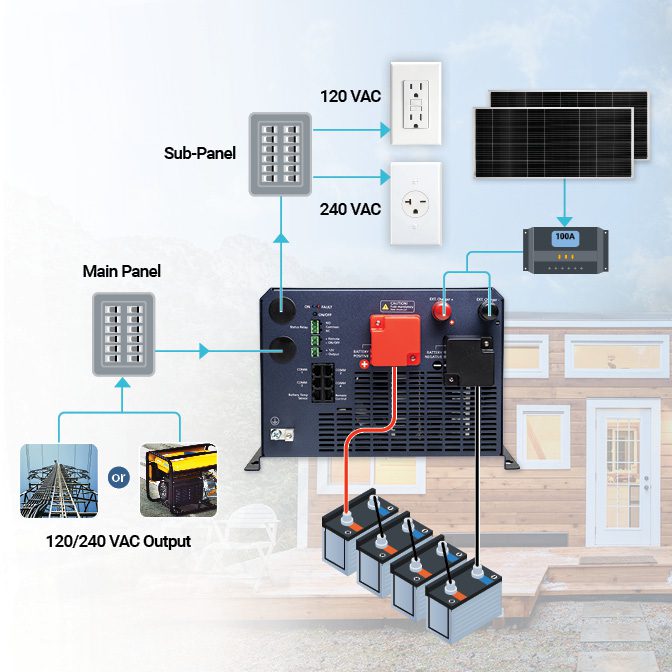 A Better Way To Do Off-Grid
Split Phase Power Inverter, Battery Charger and Transfer Switch – ALL in ONE device. This robust power system accepts input from the grid, a generator or a solar charge controller to charge a bank of 48 volt batteries efficiently, and deliver clean, reliable power to both your 120V and 240V AC appliances.
Designed with bulletproof intelligence and state-of-the-art technology, Samlex Evolution™ Series EVO-4248SP Inverter/Chargers are practically indestructible in the field. Built for the toughest climates, its wide operating temperature ranges from -20°C to +60°C (-4°F to 140°F). Designed for reliable alternative energy and backup power in off-grid cabins, tiny homes, and remote locations.
---
Introducing our 4200W,


48V Split Phase Inverter/Charger
Living off-grid doesn't have to mean losing access to modern appliances or necessities such as an air conditioner, sump pump, stove, or water heater. With the newly released EVO-4248SP split phase inverter/charger you get a 48V, 4200W unit with 120/240 VAC input and output. This split phase inverter/charger meets the needs of the most common off-grid residential systems and comes with the same technology and features built into the industry proven EVOLUTION™ Series. When there is no electricity available, use solar as the primary source to charge your batteries. Pair the EVO-4248SP with grid for backup power, or with a generator for off-grid power.
---
Features
"Months of research came down to the Samlex EVO™ which had the qualifications I was looking for with performance and robustness. The EVO has been running straight for over two years, never has been turned off; it works beautifully! It has powered a Bosch water heater, Chef washing machine, 10 cu. ft top freezer refrigerator, percolator coffee pot, regular iron, vacuum, microwave, even a Senville mini-split AC unit. We have a self filtration system for the washer which uses 20 gallons of water to complete 9 loads of laundry which is powered by the EVO. There's nothing said I can't have all the comforts of home when off-grid, which is made possible by the Samlex EVO Inverter/Charger."
– Rod S., Nevada
---
Power ALL your 120V and 240V appliances
with the EVO-4248SP Inverter/Charger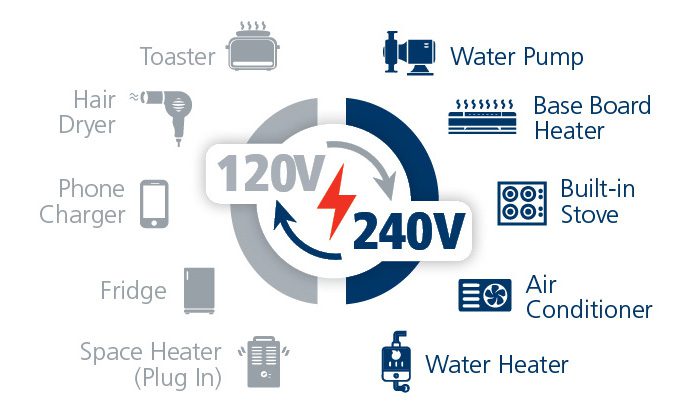 Specifications
MODEL

EVO-4248SP

MODEL

EVO-RC-PLUS




INPUT

48 VDC

COMPATIBILITY

Compatible with all EVO™ Series Inverter/Chargers

OUTPUT

120/240 VAC
Split Phase

CABLE SET

RJ-45 Data Cable; 10 Meters / 33 ft

POWER

4200W

DISPLAY

4 rows of 20 character alpha numeric LCD display

3X SURGE

12600W

SD CARD SLOT

Accepts up to 32 GB SD Card for data logging

DIMENSIONS

12.8 x 16.8 x 8.15 (in)
325 x 426 x 207 (mm)

DIMENSIONS

6.3 x 4.5 x 1.4 (in)
160 x 114.2 x 35.5 (mm)




WEIGHT

29 Kg / 64 lb

WEIGHT

0.3 kg / 0.6 lb

FEATURES

1 AC Input
100A External DC Input

FEATURES

Log historic power consumption, inverter functionality, battery
charging activity, plus more parameters

MORE INFO

MORE INFO
| | | |
| --- | --- | --- |
| 3 YEAR WARRANTY | | |