Choose Samlex
| | |
| --- | --- |
| | Outstanding Customer Service – Providing exceptional customer service is our top priority. For product specification expertise, sales support, and technical assistance, talk to someone the first time you call, guaranteed. |
| | Superior Product Quality - Our products are certified to industry standards and are field-proven for exceptional performance under the most extreme conditions. |
| | Industry Proven Reliability – Trusted by oil and gas, utility, and construction companies to keep operations running, without interruption or downtime Samlex has the reliable power you need. |
| | Manufacturer Innovation – Samlex is the manufacturer. We offer customization or private labeling for your specific project needs. Learn more about our OEM Services. |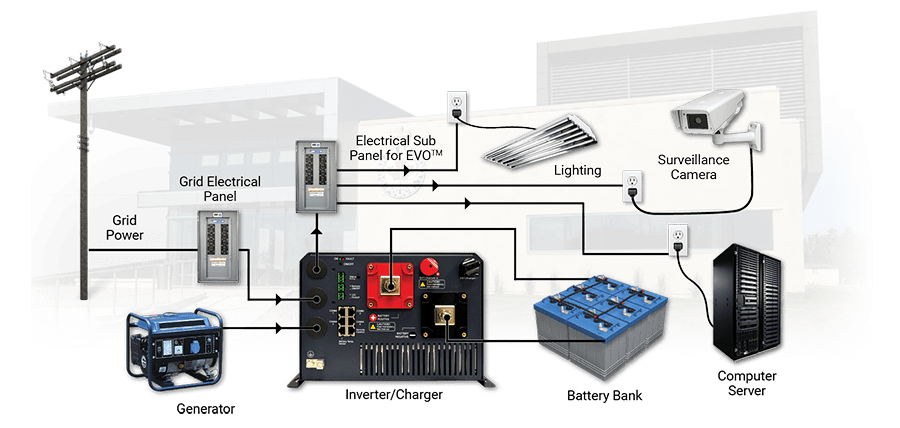 Electrical Applications
Medical Carts | Mobile Workstations | DataComm | Overhead Lighting | Video Surveillance | Alternative Energy | Power Distribution | Site Lighting | Security | Automation & Control | Modern Material Handling | Supply Chain
Whether you require backup power for mobile workstations, an alternative energy source for signage and lights, or silent power on construction sites, Samlex manufactures a wide range of mobile power systems to meet your unique application.
Warehouse automation and integration specialists depend on Samlex Power Inverters to keep their operations running. The warehouse battery powered carts increase efficiency and productivity of order fulfillment and inventory management.
While working in residential neighborhoods, Samlex Inverters and Battery Chargers keep your site work lights on at night, and power your electrical equipment without the noise of a gas generator.
Whether you want to augment your batteries with solar power or have a need to run power tools at your construction site Samlex Solar Panels or Inverter/Chargers get the job done.
Testimonials
"Definitive Technology Group provides battery systems and mobile workstations to warehouse, fulfillment and medical device markets. I have worked with Samlex America for approximately 10 years. The inverters that we use have proven to be superior to everything else that we have tested, especially when it comes to EMI. Product is proven reliable and our account rep (Jason) is as good as they come, you won't regret working with Samlex."
"EPCOM is a worldwide leading distributor for Wireless and Security Systems. We have 19 distribution centers and partner with the most important distributors in Central and South America. Samlex America products complement our customer's requirements. We are impressed with their quality of product and excellent service from our account manager (Aida Guerrero). At Epcom we only work with products we trust, and Samlex is the best."
"Our company operates 24/7 communication systems that require a steady and reliable power source at all times. We use the Samlex America EVO Inverter / Charger as a solution to provide reliability to our backup system and energy transfers. EVO is a product that we recommend to all our customers with energy systems that require 24/7 power."
Let's find an electrical power solution that meets your needs
Need more information about our power supplies, inverters, battery chargers or not sure which power system to spec into your project? Talk to a Samlex expert today.