Manufacturing Premium Custom Truck Bodies, Trailers & Workspaces for over 40 years
Intercontinental Truck Body (ITB) was founded in 1974 by three brothers who emigrated from the Netherlands to Canada. Opening their first manufacturing plant in Coaldale, AB, they started building work truck bodies that could stand up to the extreme weather conditions and terrain of Western Canada. As demand increased for their quality truck bodies, they expanded to open a second location in Surrey, BC. Between the two manufacturing plants, ITB has built over 30,000 truck bodies in use across North America.
Renowned for quality workmanship and innovative designs, ITB's unique snap-lock aluminum panel system continues to be the heart of their durable and customizable build system. Their snap-lock panel dramatically reduces the need for welding and increases speed in body construction without compromising on strength. The custom truck body manufacturer builds van bodies, flatbeds, RVs, film trailers, first response trucks, plus many other specialized vehicles. Regardless of the size of project or budget, ITB ensures that each custom build uses the highest quality components from their select list of trusted partners. Samlex pure sine inverter chargers are on that list.
"Whether we're looking at a service truck or an RV, our customers are looking to ITB to provide the best equipment that is going to stand up over the test of time, that is going to stand up to the elements, and is going to be easy for our team to install. As Parts & Service Manager I oversee the warranty department, and to date we have not had a warranty claim on a Samlex product."
– Nate Marois, Parts & Service Manager
Samlex has a power solution for each project's unique electrical challenges
Samlex America's wide range of power conversion products provide the flexibility that ITB requires to build a robust power supply and distribution system for each of their custom projects. Whether it's a mobile research lab headed for Alaska, or a 36' Hollywood film production trailer, each of these custom workspaces share a need for custom furnishings, heating and cooling, complex power supply systems, and a variety of supporting electrical subsystems.
From Samlex's wide variety of power inverters that range from 100 to 3000 watts, to the EVO™ Series pure sine inverter  chargers, ITB can trust they are using the best power inverter or inverter charger for the job. The advanced design of the EVO™ inverter charger includes built-in DC solar input on all units – allowing the installer to wire the solar system (from the charge controller) directly into the EVO™, saving time and centralizing the power system. This not only provides peace of mind to the customer by keeping their batteries charged, but also streamlines the electrical design and installation process.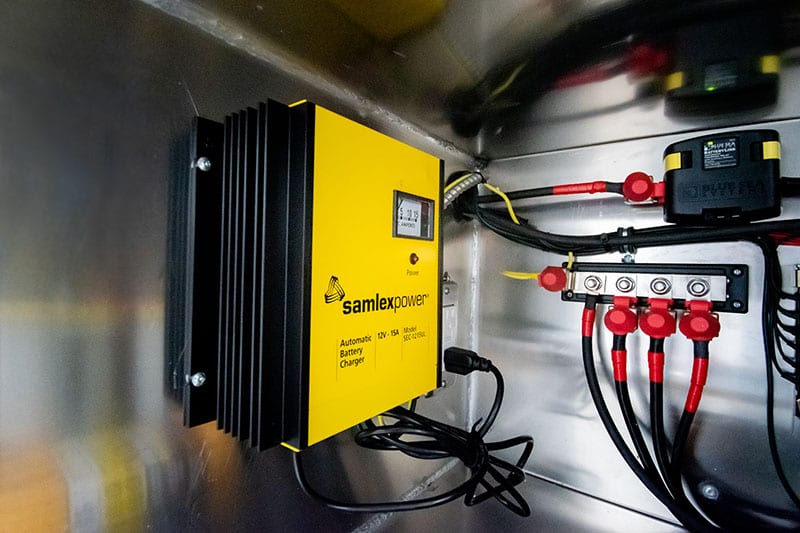 This combined with Samlex's extensive line of battery chargers, inverter accessories, converters and solar panel charging kits allows ITB to build a mobile electrical system to meet the most complex project needs and demanding power requirements.
"What's impressed me most about the Samlex product line is the amount of equipment that they've got. From battery chargers to inverter chargers, they just run the gambit for everything you could want for electrical. My favorite unit would be the EVO-3012, you can mesh together a generator, shoreline, with a 150A battery charger and a transfer switch built in – it just makes everything easy for design."
– Ben Gregorash, Electrical Design
For more information on our Mobile Fleet Power Solutions or help choosing the best inverter charger for your job, fill out our Where To Buy form.