Rising fuel costs and increasing overall miles driven are two main challenges that fleet managers face when trying to meet their cost containment goals. Below are some tips to help you reduce fleet fuel costs.
Minimize unnecessary idling
This is the simplest and easiest way for a fleet to cut fuel costs and unnecessary emissions. It causes engine wear and tear, noise pollution, and instructing drivers to turn off the engine whenever possible, is encouraged.
Installing the Samlex America EVO™ Inverter/Charger Series in your fleet is an excellent way to allow work truck operators to use AC-powered tools of their trade or take other comforts of the home on the road without having to run their vehicle. The EVO™ Inverter/Charger is a pure sine wave inverter, battery charger and transfer switch all-in-one unit. When working in remote locations out of a work truck or work van, the EVO™ will convert DC power from the battery bank into clean, efficient electricity for tools, laptops and electronic devices. When utility power is available, the transfer switch that is built into the unit automatically draws on that AC power and charges the battery back up. It also comes with a solar DC input so if you have a portable solar kit, like our MSK Series, you can set it up to charge while you are working. The return on investment (ROI) and green energy benefits make this product an easy decision.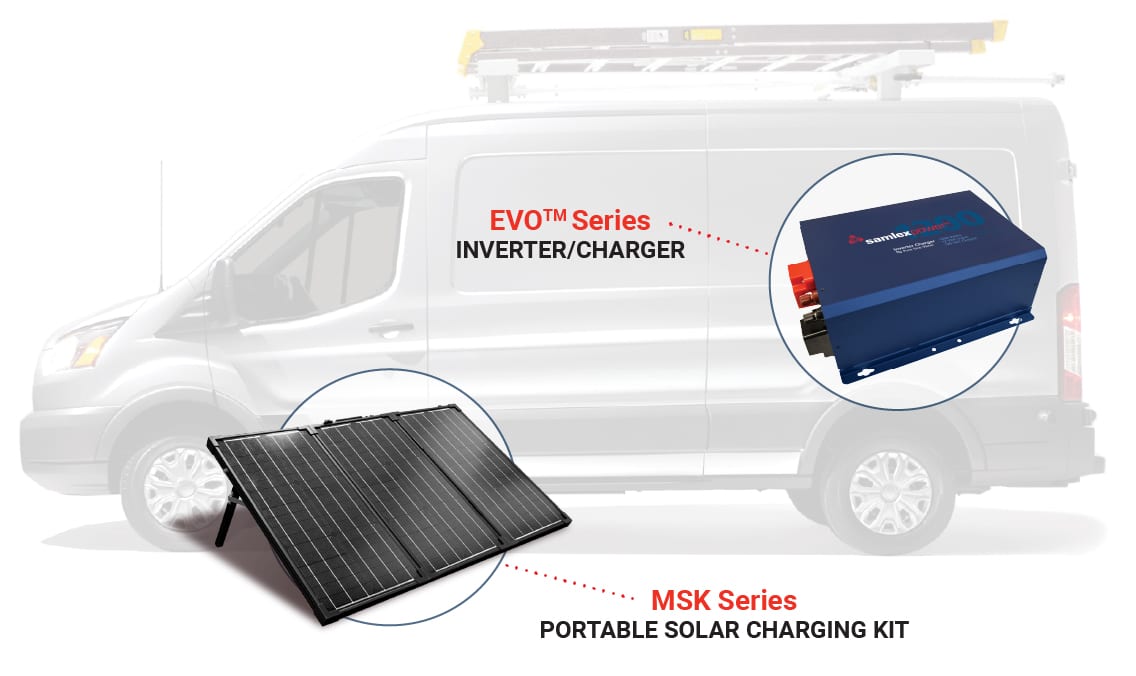 Other ways to reduce fleet fuel costs…
Companies can leverage fuel card controls, by setting parameters to help prevent excessive or unauthorized spending.
Optimizing fuel choices by encouraging drivers to be "price conscious' when filling up, and to choose regular unleaded fuel when possible.
Creating territories and routes that reduce miles driven and consider the efficiency of getting from point A to point B. Factors such as road quality, traffic conditions and speed limits can lower your MPG and produce more greenhouse gas (GHG) emissions.
Maintain proper vehicle maintenance and tire inflation to increase fuel economy, and prevent unnecessary repairs and costly downtime.
Keep your vehicle trunks or work trucks clean of tools and materials that aren't needed for that day – unnecessary weight can reduce your fuel efficiency.
Promote road kindness in your fleet – aggressive driving habits such as heavy acceleration and frequent braking reduce fuel economy. Use cruise control on highways, follow speed limits and encourage positive driving habits that will reduce fleet fuel costs.
Even small increases in miles per gallon (MPG) can result in substantial savings when extrapolated across the entire fleet. Combine these fuel-saving tips with a green energy source such as a Samlex EVO™ Inverter/Charger and MSK portable solar charging kit to reduce idling time, and increase productivity across your fleet operations.
For further information on our mobile fleet solutions, or to chat with one of our fleet specialists, fill out our Where to Buy Form or call 1-800-561-5885.