How to find the best power inverter for your needs

Choosing a power inverter for your truck, RV, commercial vehicle or off-grid power application can take a lot of time, especially if you're comparing between different brands, features and options to meet your electrical requirements.
Over our 30 years of manufacturing power conversion products, we've listened to the needs of our customers in their various industries, and responded with innovative power solutions that enable them to do more, go further and be more productive.
We've developed the widest range of DC-AC power inverters in the industry to meet the diverse needs of our customers. Ranging from 100 watts to 3000 watts in both pure sine wave and modified sine wave inverter options, you can choose from 12 volt, 24 volt or 48 volt models. With this wide selection, customers can find the ideal inverter to meet their requirements. However, if you're unfamiliar with our product line you may be wondering which inverter is right for you? We've put together a comparison of our most popular inverters to help with the selection process.
What are the differences between the PST, NTX and SAM Series inverters?
First, let's break down the unique features of each of our power inverter series, and their applications. Although all our DC-AC power inverters maintain the same high Samlex standards of quality, reliability, and safety, each series has been designed to meet the specific needs of our customers across a wide range of industries. From powering computer equipment and charging cordless tools in an RV, boat, or work truck — to providing backup power in a telecom data center, or mobile power for hospital medical carts — you'll find Samlex inverters anywhere that off-grid, mobile, or backup power is needed.
Samlex manufactures both modified sine and pure sine wave inverters. If you're unsure what type of sine wave would be best suited to your electrical application, read this post on pure sine vs modified sine wave first.
Inverter
Series

PST SERIES




NTX SERIES





SAM SERIES




Sine Wave

Pure Sine Wave

Pure Sine Wave

Modified Sine Wave

Info

Industrial grade for heavy duty loads & extended periods of continuous operation.

Powerful performance in a simplified design making pure sine more affordable.

Compact, reliable AC power for electronics that don't require pure sine power.

Watt Options

120W - 3000W

1000W - 3000W

100W - 3000W

Surge

2X Surge

2X Surge w/ Hypersurge™

2X Surge

VDC Input

12V, 24V, 48V

12V

12V

VAC Output

120VAC, 230VAC

120VAC

120VAC, 230VAC*

Operating Temp

-20˚C to +40˚C

0˚C to 40˚C

0˚C to 25˚C

Remotes

RC-15A & RC-300 optional
(model specific)

NTX-RC included

SAM-RC optional (1000W+ models)

Certified

ETL Safety Listed
FCC to Class B

ETL Safety Listed
FCC to Class A

ETL Safety Listed

Warranty

3 Years (CAN/US)

2 Years (CAN/US)

2 Years (CAN/US)

Outlets

GFCI or Hardwire

GFCI

GFCI

Additional
Features

Remote ON/OFF switch




Wide DC input range 10.7 - 16.5VDC

30A twist-lock outlet on 3000W model




Wide DC input range 10.5 - 16.3VDC

Remote ON/OFF control




100W-800W models include USB port

More Info








PST Series Inverters: Industry-Proven, Heavy Duty
Our flagship series is suitable for heavy duty loads, extended periods of continuous operation, and for emergency backup.
Models: 120W – 3000W | 12V, 24V, 48V | 120VAC & 230VAC
How the PST gets used in the field:
The PST is our industry-proven, best-in-class inverter series thanks to its heavy-duty construction, high performance, wide operating temperature, and extra features, such as hardwiring and ignition ON/OFF switch. You'll find the PST being used to continuously power high surge devices such as air compressors and high torque tools in commercial work trucks, and sensitive devices that rely on pure sine wave power such as audio/video and test equipment.
• Extreme operating environments — wide operating temperature rating -20 to +40ºC
• Compatible with high voltage alternators —  wide DC input range 10.5V – 16.5V
• Quiet operation — temperature-controlled cooling fan reduces energy consumption
• Remote input — turn inverter ON or OFF with ignition start or any Remote ON/OFF switch
• Install options — hardwire or GFCI available on 1500W, 2000W, 3000 Watt inverter models
• Protect your batteries and loads from excessive draw — automatic low voltage disconnect
NTX Series Inverters: Compact, Cost-Effective, Powerful Performance
Powerful performance in a simplified design makes pure sine power more affordable. Same Samlex dependability as the PST Series, just fewer features.
Models: 1000W – 3000W | 12V | 120VAC
How the NTX gets used in the field:
The NTX Series of inverters provides clean, reliable pure sine power to sensitive devices such as LCD TV, laptop, blender, and CPAP machine. Its compact size is ideal for smaller RVs, tiny homes, sleeper cabins in long haul trucks and work vans with smaller storage compartments.
• Run high surge loads for longer — Hypersurge™ 2x surge capacity
• Use with high voltage alternators in newer vehicles — wide DC (direct current) input range
• Quiet operation — single variable speed fan produces very little noise when in use
• Full power utilization — 3000W model includes 30A locking outlet with mating plug
• NTX-RC remote included with all NTX inverters
SAM Series Modified Inverters: Durable & Most Affordable
Smaller in size, provides reliable AC (Alternating Current) power suitable for intermittent use of electronics and appliances such as a toaster, kettle, water heater, pump or motor that does not require a filtered AC input or is reliant on the AC input for timing.
Models: 100W – 3000W | 12V | 120VAC & 230VAC*
How the SAM Series gets used in the field:
The SAM Series' small size and durable construction is a great inverter for your car or truck to charge smartphones and tablets on the go, or to use in a trailer, camper or remote cabin to power your lights, pump or coffeemaker.
• Fits in small spaces — compact design, durable construction
• Reduce wear and tear on appliances — soft start and cool surface technology
• USB compatible — 100W to 800W models include a 2.1 Amp USB charging port for charging smart phones and tablets
• Remote input — 1000W to 3000W models have the option for remote ON/OFF control
*230VAC only available in 450W model

For a comparison of our power inverter lineup, download the Inverter Quick Reference Guide chart.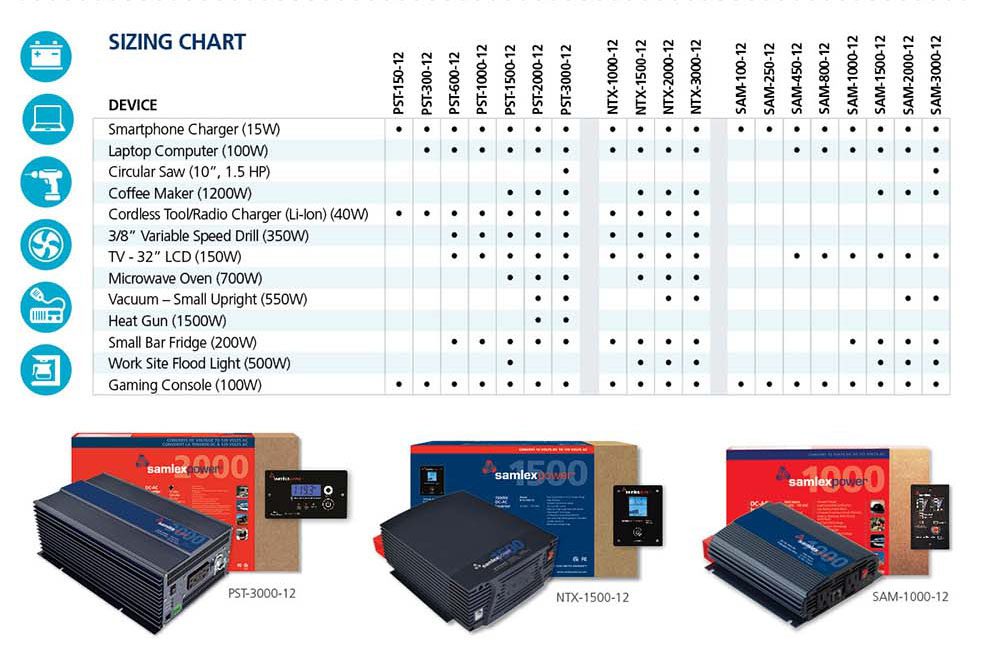 What size power inverter do you need?
Now that we've reviewed the key features of each Samlex Inverter Series, you're probably wondering what you can power with your inverter and what size inverter you need? This calculation will be based on your electrical loads, usage patterns, battery size, and how many devices you'll be running all at the same time.
We've created our inverter run-time calculator to help simplify this process. We've selected the most common electrical devices so that you can add these to the calculator and turn them on and off to see your "peak load" requirements (all the loads turned on at the same time). You can add the number of batteries you need and choose between 12V and 24V. With this information, we'll be able to suggest a couple of inverters to meet your power wattage needs. Of course, each customer's power requirements are unique, so once you've got your inverter calculator results we recommend speaking with one of our sales team to answer any questions you may have. If you're new to the run-time calculator, check out this step-by-step guide on getting started.
Ready to design your off-grid electrical system?
Designing an electrical system may be more complex than just choosing a power inverter. Read the inverter manual completely and be sure to observe all electrical safety precautions. If unsure, always seek professional assistance. To assist in completing your electical system projects, Samlex carries a wide range of battery chargers, inverter/chargers, power supplies, dc-dc converters, solar panel kits, fuses, parts, and accessories needed for a complete off-grid, remote or mobile power system. With over 30 years of experience in the power conversion industry Samlex America products are industry-proven to stand the test of time in the most demanding conditions and situations where downtime is not an option.
Samlex proudly stands behind our promise of the best customer service in the industry. We have a minimum 2-year warranty* on all our power conversion products, and our expert tech support team is available by phone or email for product assistance.
*Warranty valid in Canada/US
FAQs
Do I need an inverter with pure sine wave?
If you are aiming to power delicate medical equipment, a newer laptop, microwave or tools with non-variable speed motors, the safest and most efficient option is to go with a pure sine wave inverter, which produces a near-perfect replica of true sine wave AC power. Most electronics will function with a modified power inverter but may be running hotter than normal, which equates to less power efficiency.
What size power inverter should I buy?
Choosing the right inverter size depends on the power requirements of the electronics you expect to operate at any given time. You should consider both the continuous and surge power rating of your electronic device or appliance. If you are going to operate 2 devices at once, add up the total wattage of both devices then add at least 50% more to account for startup surge in the power draw.
Example:
Microwave 900 W + Laptop Charger 100 W
Recommended size of inverter: 900 W + 100 W + (0.50 X 1000 W) = 1500 W
---
Need More Info?
If you're still unsure as to which option might be a better solution for your needs, please feel free to contact us for more customized support based on your specific situation.