Powering a family of six living an off-grid adventure in a renovated Airstream
Over 5 years ago, Jonathan and Ashley Longnecker sold their suburban home, bought a new 5th wheel trailer, and packed up their four kids for an epic adventure traveling across the US. What started out as a way to spend more time with their kids and show them the world turned into a decision that would fundamentally change the way they wanted to live moving forward.
How the freedom of boondocking changed it all
Up to this point they had spent most of their time staying in campgrounds until they discovered the freedom of boondocking (camping without hookups). Never ones to shy away from adventure, they decided to sell the huge 5th wheel trailer and downsize to an Airstream that they could customize and live in year-round with off-grid power. They spent six months renovating their 31' vintage 1972 Airstream for off-grid living. This included fold-down bunk beds for the kids with built-in storage, a composting toilet, robust internet boosting setup, lithium-ion batteries, 900W of solar panels and a Samlex PST-2000-12 pure sine wave inverter to power their daily necessities and enable them to work remotely. They also later installed the Samlex RC-300 remote to allow them to easily turn the inverter off at night and maintain the life of their batteries. For the next four years, they continued their boondocking adventures traveling across Canada and the US, exploring remote locations that they never would have otherwise been able to stay at without their off-grid power system.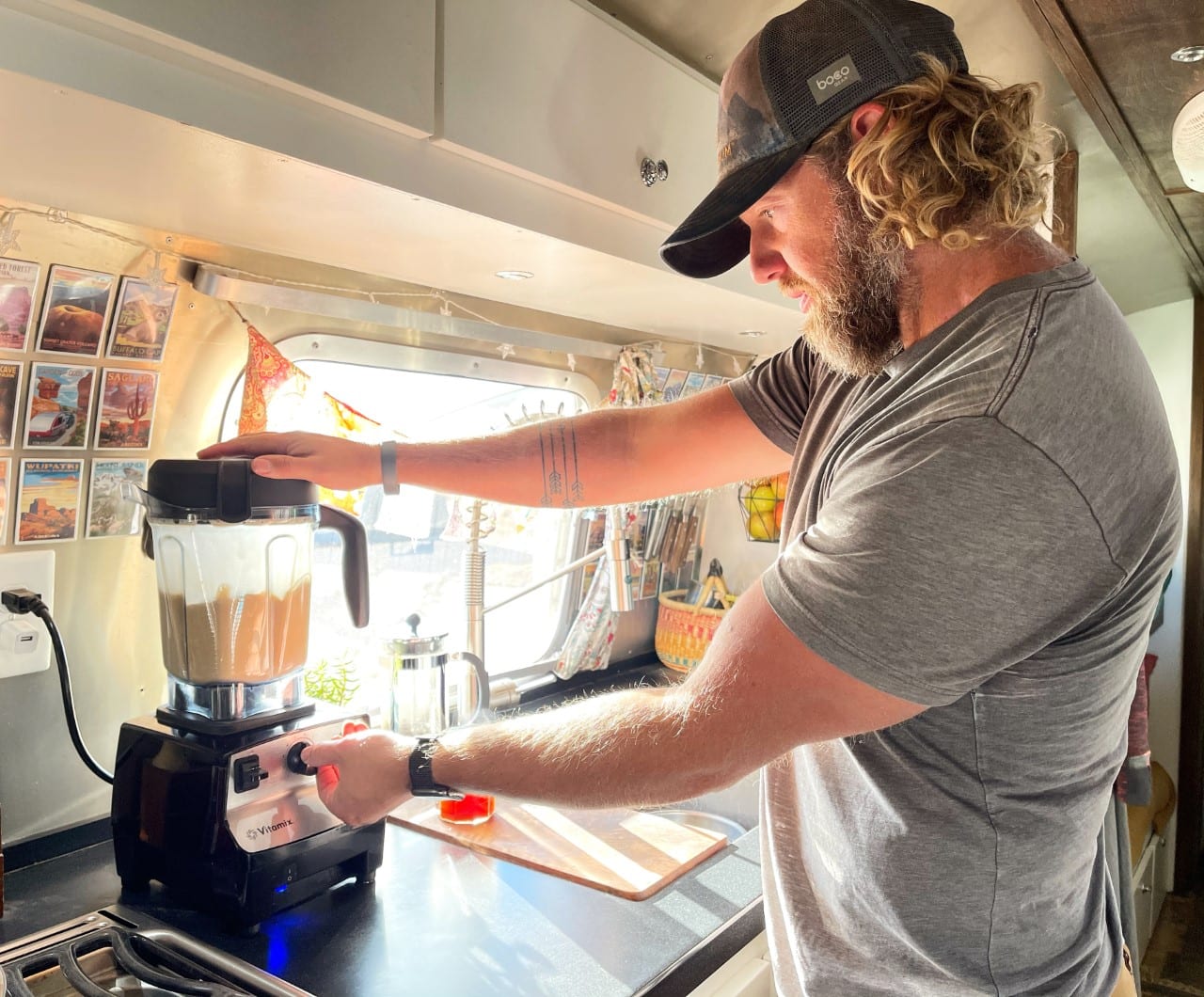 Settling down to build an off-grid homestead in their Airstream
After boondocking and living on the road for the past 5 years, the Longnecker family was ready to settle down. The kids were getting older and their tiny, shiny Airstream home was feeling smaller every day. On their travels, they fell in love with the Arizona landscape and desert and decided to purchase 11 acres of undeveloped land in Cochise County, Arizona to build their off-grid homestead while they continued to live off-grid in their Airstream on the property.
Since putting roots down in Arizona they've been using the same off-grid power system day in and day out for their family of six. The Samlex 2000 watt power inverter allows them to use their Vitamix and other kitchen appliances, charge their laptops and camera gear to maintain their online business, document their journey on the Tiny Shiny Home Youtube channel, as well as power the tools they need to build their new off-grid homestead. They recently completed building a Hyperadobe Solar Shed which will house the inverter and batteries for their off-grid solar system, as well as function as the office and provide some much needed shade from the hot Arizona sun. We can't wait to follow along on their journey to see what's next for the Tiny Shiny Home family.
"We've been using our electrical setup for over 4 years living mostly off the grid (boondocking), but also in campgrounds, friends' driveways, and even at farms and wineries. We get around. And now we've set up shop permanently on our off-grid desert homestead using the same system day in and day out. Keep in mind we're a family of 6 living, working, and homeschooling with this power setup full time. And I can count on one hand the number of times we've had to pull out the generator to top the batteries off – all of which involved lots of trees blocking our panels. We started with a Samlex PST 1000W power inverter and upgraded to a 2000W inverter a few years later so we could run our new Vitamix. They have always provided rock-solid power, and protected us when we did stupid stuff like try to run appliances that were too powerful or kept tripping when we wired a new 120V plug backwards."
Learn more about our Fixed Off-Grid Power Solutions
Get more info on Samlex PST Pure Sine Inverters
Read the full Tiny Shiny Home story: Installing Off-Grid Solar & Electrical on our Renovated Airstream
Photos and video provided by Tiny Shiny Home