What is boondocking or dry camping?
Boondocking, also known as dry camping or dispersed camping, is an ever-growing way for RV travellers to not only save some money by doing away with paying for nightly stays at campgrounds, but also to experience new destinations with complete privacy. While boondocking seems like an ideal way of living for some travellers, it might not work for everyone. By camping off-grid, you will lose access to the amenities included in a campground such as electricity and water hookups. In this blog post, we will go over some essential things that you need to know before kick-starting your off-grid journey in remote locations. By preparing a robust electrical system using Samlex Solar + Power Inverter bundles, which are designed with RV'ers and their needs in mind, you will be able to stay off-grid for longer periods of time without the need to be tethered to a campsite.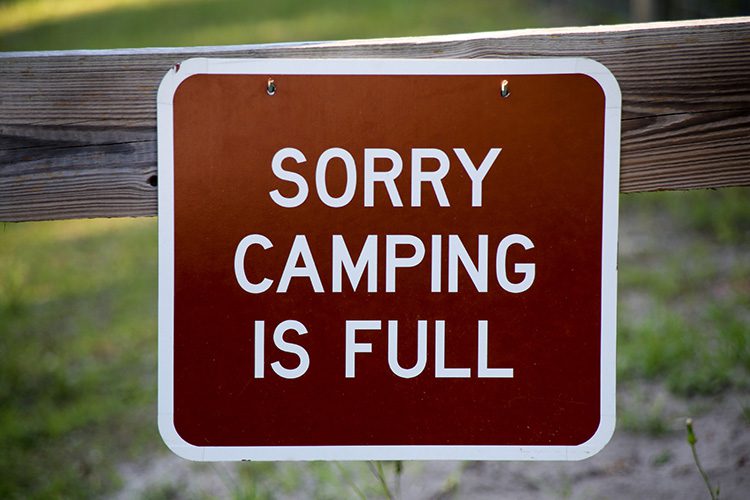 Photo: Hayden Dunsel for Florida Guidebook
Why is boondocking becoming more popular?
According to Kevin Long, CEO of The Dyrt, the surge of new campers is much higher than what they have seen in the past decade. Here is some data from 2021 which supports this insight:
91% of campgrounds expect more campers
71% of campers plan to camp more
400% increase in The Dyrt PRO camping memberships
RV ownership is at a record high with 11.2 million households owning an RV in 2021, up 62% from 6.9 million households in 2001 (source)
Given this surge in the demand for campgrounds, a shortage in the supply of campsites is inevitable. Therefore, RV'ers are increasingly turning to boondocking in remote locations as a viable alternative to camping at campsites and RV parks.
How to find boondocking spots/campsites at my destination?
Finding a safe and reliable place to park your RV when travelling can become a stressful task if you are not prepared for it. That is why we suggest that you do your research prior to starting your trips so that you have a good understanding of your options for when you get to your destination. Here are a few websites that you can use to find places where boondocking is allowed: Campendium, The Dyrt, Allstays, Freecampsites, iOverlander, and Hip Camp.
Boondocking and dry camping essentials
While boondocking provides you with many benefits such as cost savings, more privacy, and a great deal of freedom, the fact that boondocking limits your access to shore power and running water might be a deal-breaker for some RV owners. That is why you need a reliable and mobile electrical system that would allow you to run your electronic devices even when off-grid.
Electrical System Components for your RV
To do so, you will need to invest in some good quality batteries to store energy, preferably lithium or lead-acid ones; a pure sine wave power inverter to convert the DC (Direct Current) power stored in your batteries to AC (Alternating Current) power; solar panels to keep your batteries charged up, and a charge controller. Check out this installation video by one of our customers, Desk to Glory, who installed two Samlex 100W solar panels on his Go Fast Camper as well as a 600W pure sine DC-AC inverter in his 1990 Toyota truck:
Here is more information that can help you pick the right electrical components for your RV adventures:
8 Essential items for a more comfortable boondocking experience
Depending on how much storage space you have in your RV and how prepared you would like to be for any scenario that your travels might throw at you, below is a list of items that you could take with you on your next boondocking adventure.
Cell phone signal booster: If you are planning to travel to remote locations, chances are that the cell reception might not be ideal at your destination. By investing in a booster, you will be able to make phone calls easier. Also, a cell signal booster will improve the speed of your cellular data due to the enhanced signals that it delivers to your devices.
Portable BBQ: Having the ability to cook fresh meals while you are out in the wilderness is part of the camping experience. There are electric BBQs as well as propane-powered grills that you can take with you on the road.
Heater: There is nothing worse than waking up in the middle of the night because your RV has gotten too cold. That is why having a heater in your vehicle is necessary.
Water filter: Having access to clean water is crucial when travelling. Relying on plastic water bottles is also not an environmentally friendly option since it increases your use of plastic water bottles. That is why RV travellers would benefit from investing in a water filtration system to ensure a filtered and clean supply of water during their travels.
Outdoor lights/flashlights: Since you will not be staying at campsites, you need outdoor lights so that your adventures do not have to stop at sunset. When you are out in the wilderness, starting a campfire is also a great option, but it might not be allowed in some places due to fire restrictions. So, bring a couple of battery-powered lanterns and a portable propane campfire with you on your next boondocking trip.
Portable water jug: Most RVs have a limited freshwater tank. No matter how frugal you get with your water consumption, at some point, you will run out of fresh water in your RV. To avoid moving the RV to a different location to fill up your water tank, you can simply use a jerry can or a water bladder to bring back fresh water to your vehicle.
Camping chairs and tables: This one is a no-brainer. We love these ones from Kuma.
Levelling blocks: When dry camping, you need to make sure that your vehicle is level to ensure maximum safety and comfort. Finding a flat and firm surface is not as easy as it sounds, especially because in most places where parking is allowed for boondocking, unlike paid campsites, the ground is likely to be either soft or sloped or both. This is where levelling blocks come in handy.
Portable solar kit: In the heat of the summer, you want to keep your RV parked in the shade, but this may obstruct the sun from reaching the solar panels on your roof. Invest in a portable solar kit and all you need to do is plug it in and position it in the sun to charge your RV batteries.
Check out the following useful RV boondocking checklist by Latchit which offers a more thorough list of essential items that you could take with you on your upcoming boondocking adventures:
Source: Latchit
---
Need More Info?
If you have any questions regarding your power needs when boondocking, please feel free to contact our expert sales team by phone or email to receive more customized support based on your specific situation.
Sources:
latchit.org
outsideonline.com
letstravelfamily.com
doityourselfrv.com
gorving.com