Power. A critical necessity we take for granted – until it goes out.
The reality is that at some point we'll all experience a power outage, especially during seasonal storms which may bring on flooding, lightning, high winds and even wildfires.
These occurrences are predicted to gain frequency in light of ongoing climate change, says NASA, which links recent evidence of extreme weather with warmer global temperatures and rising sea levels — causing hurricanes, tropical storms and cyclones to happen more often. Natural disasters, grid outages, brown outs and other possible power anomalies also loom large.
In addition, the power grid in the U.S. is aging and "struggling to meet current demand" according to the Electricity Forum and the move to electric vehicles and heating homes with electric furnaces may also exacerbate the situation, putting additional stress and vulnerability on the power grid.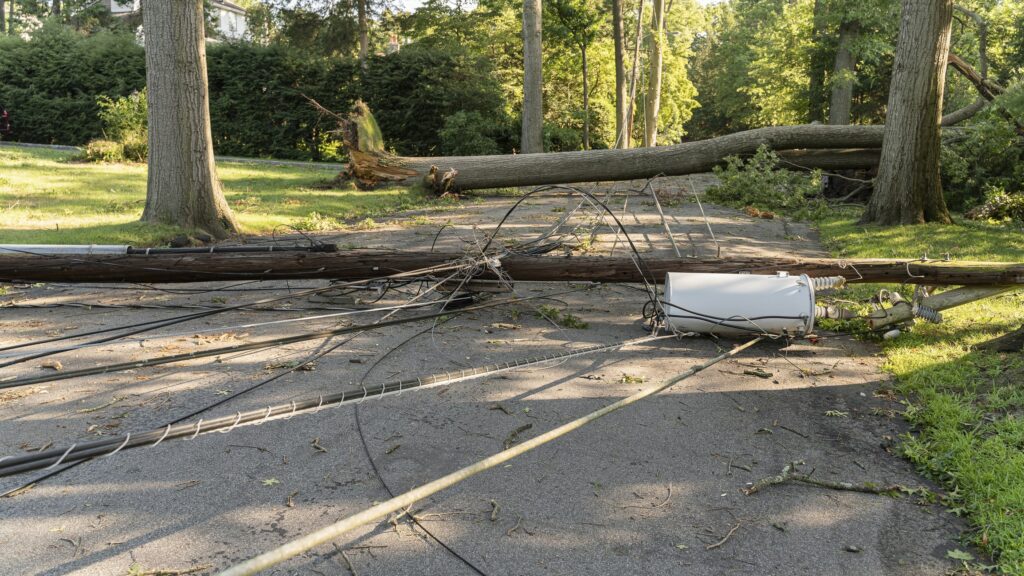 Emergency Power Supply
These scenarios reiterate the need to protect both people and property from power outages. Not only are these incidents aggravating, but they create unsafe conditions for those who find themselves without heat, cooling, medical equipment, lighting and security.
Emergency battery backup power is a must-have to avoid dangerous situations or loss of business continuity. Backup is a priority for the following critical appliances/systems: refrigerator, freezer, water pump, sump pump, internet, computer, smartphone charging, security system, garage door opener, microwave, lights and other devices and systems.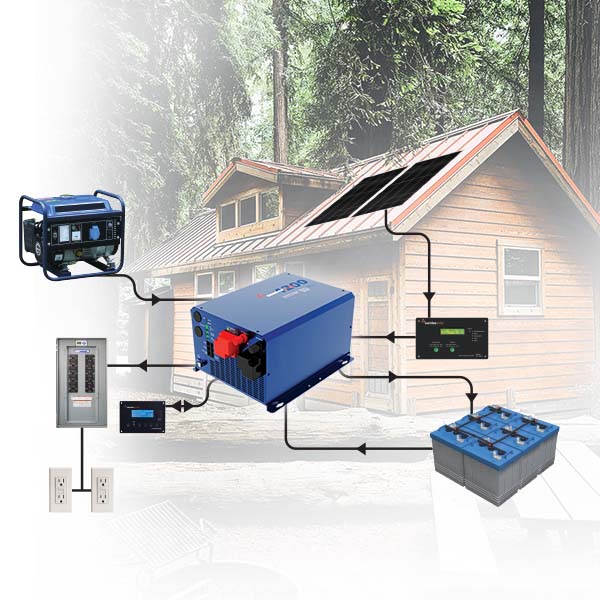 How Samlex EVO Inverter/Chargers can fit into your backup power solution
Backup Power Options
It's not all doom and gloom, because there are backup technologies that can keep you covered in the event of an outage or other power emergency. Options include portable, permanent or fixed generators, portable solar generators and battery backup with inverter/charger.
For clean, consistent power with unique functionalities, your best choice may be the inverter/charger for commercial and home backup power.
EVO™ Inverter/Charger Series
The EVO™ Inverter/Charger Series in combination with a battery bank is a cost-effective, reliable power system for businesses and homeowners who require backup power for extended amounts of time.
The EVO™ Series features a pure sine wave DC-AC power inverter, adaptive battery charger and integrated transfer relay switch in one unit to provide AC power in alternative energy, backup and emergency power applications.  In addition to residential, commercial and other properties, it can be used for boats, recreational and specialty vehicles.
With the EVO™ Series you can run high-power appliances such as compressors, refrigerators, heaters, microwaves and even air conditioners without issue. Built-in dual transfer switches eliminate the need to manually switch from grid to generator or perform configurations. The unit's state-of-the-art monitoring technology proactively detects fault conditions to provide protection in the harshest environments.
Take a look at some current use-cases and examples of customers using EVO™ for backup power.

EVO Inverter/Charger Install at Remnant Church
Why the EVO™ Inverter/Charger Makes Sense
Other features and standout capabilities include:
The EVO™ Inverter/Charger includes a 50A DC/solar input on all 1200-4000W units, and 100A DC input on the new EVO-4248SP. Installers can wire the solar system (from the charge controller) directly into the EVO, saving time and centralizing the power system. This reduces power required from the AC source for charging batteries and optimizes power load availability when the sun is shining.
The unit is designed for backup power for both grid-tie residences and commercial buildings as well as off-grid and remote dwellings. With solar, you can reduce or eliminate the need for gas or propane; the power of the sun keeps batteries charged and ready.
The EVO™ Series is ABYC Certified for marine use, with conformal-coated circuit boards that stand up to humid, damp and sea salt conditions in boats, vehicles and buildings.
Maintaining the system is easy. The EVO-RC-PLUS remote control monitors performance data in real time and logs historic power consumption, inverter functionality, battery charging activity, faults and other operational conditions.
Planning Your Power Backup
How much power is enough? That depends on what you're powering, if you're running loads simultaneously and for how long. The EVO™ Series comes with 3X surge and Active Power Boost, allowing you to power high surge loads and exceed the continuous output power for short durations without the inverter shutting down.
If you think you will need more power in the future, it's a good idea to oversize your inverter/charger at purchase. This will allow you to run more appliances and loads as your needs change. The programmable internal battery charger can easily incorporate additional battery sets. Depending on which model you choose, the DC input can handle 50 or 100 amps for solar panel expansion.
Here are four steps in planning your power backup system:
Calculate the watts of the appliances/systems you need to provide backup power to. Add up and then select the appropriate power inverter. Use the Samlex inverter calculator to see how long your devices will be powered for.
Select your battery bank: 12V, 24V or 48V; Deep Cycle AGM or lithium-ion batteries. Samlex EVO Inverter/Chargers are compatible with lithium-ion batteries as well as lead-acid batteries.
Add solar panels and calculate watts required.
Installation costs – We recommend hiring an electrician or electrical contractor who can provide a pricing estimate.

More Information
The EVO™ Inverter/Charger is fully compatible with single-phase generators. The 2000W, 3000W and 4000W EVO's come with two AC outputs, one for generator and one for grid so you can connect both simultaneously. The inverter/charger will prioritize grid and in the event of loss of grid uses its auto gen start feature to run the generator and top off the battery bank as needed.
The newest addition to the EVO™ Series lineup is the EVO-4248SP, a 120/240 VAC split phase inverter/charger. This connects directly into your main breaker panel and when combined with a 48V battery bank and solar system provides reliable power to a fully equipped off-grid cabin, mobile construction site office or can be used for emergency backup power.
For additional details and data on the EVO™ Inverter/Charger Series for commercial/home backup power or other power products, contact Samlex today via phone or email.