Getting ready to hit the road in your RV this summer?
For many, it's the best time of year – trailer is prepped, sites are booked, checklists are made…all that's left is to pack up and hit the road. However, with more new RV'ers than ever before, there has been a noticeable increase in waste and energy usage at campgrounds. It's the perfect time to think about how you can minimize your environmental footprint while camping this season.
Environmental sustainability means taking a comprehensive approach to minimize your environmental impact and promote responsible use of natural resources. This can be done by using solar power for renewable energy, conserving natural resources, reducing emissions, and protecting wildlife and ecosystems through responsible and sustainable RV camping practices.
The RV industry has made significant strides with the recent developments in RV electrification, the use of solar panels for renewable energy, educating customers on responsible camping practices, and using more eco-friendly materials in the manufacturing process. Samlex offers a free training program to educate RV dealers and their sales and parts teams on the benefits of solar power systems. With an off grid solar system, RVers can enjoy the freedom of boondocking and use their electronics without the need for plugging in to shore power or a noisy generator.
At Samlex we want to make your camping and RVing experience a memorable one, while being responsible and mindful of your surroundings. We're proud to provide alternative energy sources including power inverters and solar panels so you can enjoy the best that nature and RVing has to offer while enjoying the simple pleasures of life! Stay in touch with family, charge your devices, watch a rainy-day movie, or brew your favourite cup of coffee.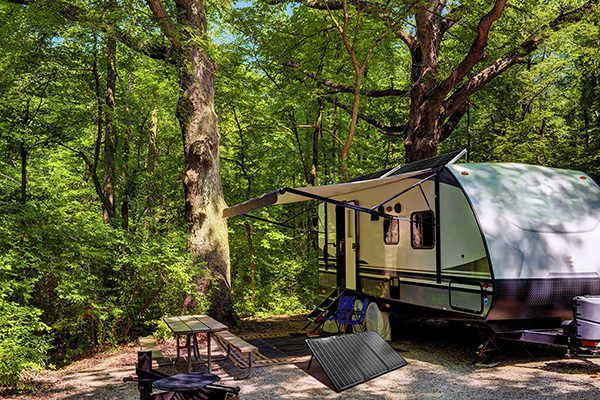 Here are a few tips to help you enjoy sustainable RVing:
Park your RV in the shade to reduce use of AC
In the heat of summer, it's recommended to keep your RV parked in the shade, but this may obstruct the sun from reaching the solar panels on your roof. Invest in a good portable solar kit and all you need to do is plug it in and position it in the sun to charge your RV batteries. Fun fact: did you know that solar panels become more efficient in colder weather, increasing the daily amount of electricity produced?
Use windows and fans to create airflow and for cross ventilation
Leaving the windows open helps promote cross-ventilation. Having additional fans in your RV during summers can help keep it cool. Additionally, you can add shades to windows, and you could use LED bulbs which run cooler than the incandescent bulbs.
Use recyclable, compostable and environmentally friendly products
When you are off grid, it is better to use things that are recyclable and compostable. This way you enjoy your surroundings and reduce your impact on the environment. Consider using things like bamboo cutlery, steel cups and vessels for cooking. There are also many options available for biodegradable washing soap and shampoo to reduce contamination. You could use compostable trash and pet poop bags as well.
Use solar panels rather than gas powered generators
It is definitely more enjoyable waking up to the relaxing sound of birds chirping around you, rather than the noise from a generator. By investing in a high-quality solar system, you can charge your batteries to power your electric devices while camping, without having to worry about fuel for a generator, or needing to tolerate its constant noise. The Samlex solar kits come in 100W, 150W and 200 watts with everything that you need to mount your solar panel to the roof of your RV or any other flat surface.
Book camping spots and RV's that promote sustainability
There are many campsites that have their sustainability plans in place and enable campers to enjoy RVing and camping sustainably. Companies like Airstream and Thor are working towards making RVing an environmentally responsible and fun experience. Airstream's programs like 'Caravan to Carbon Neutral' are promoting sustainable RVing. Thor Industries is contributing by integrating sustainable designs in their RVs.
Leave your RV parked at your site and explore the area by bike, foot, kayak or paddleboard
If you want to explore nearby areas, there are so many ways you could do it. You can explore nearby viewpoints by bike, or you could hike to highest viewpoint around to get the best view of the place. If there is a lake or water body around, you could go kayaking or paddleboarding. Apart from being better for the environment, they are healthier options too.
Whenever possible consider buying locally sourced food
Locally sourced food helps promote local businesses and local farmers. It encourages sustainable agriculture and cuts down on transportation, preservation of food and dependence on the supply chain.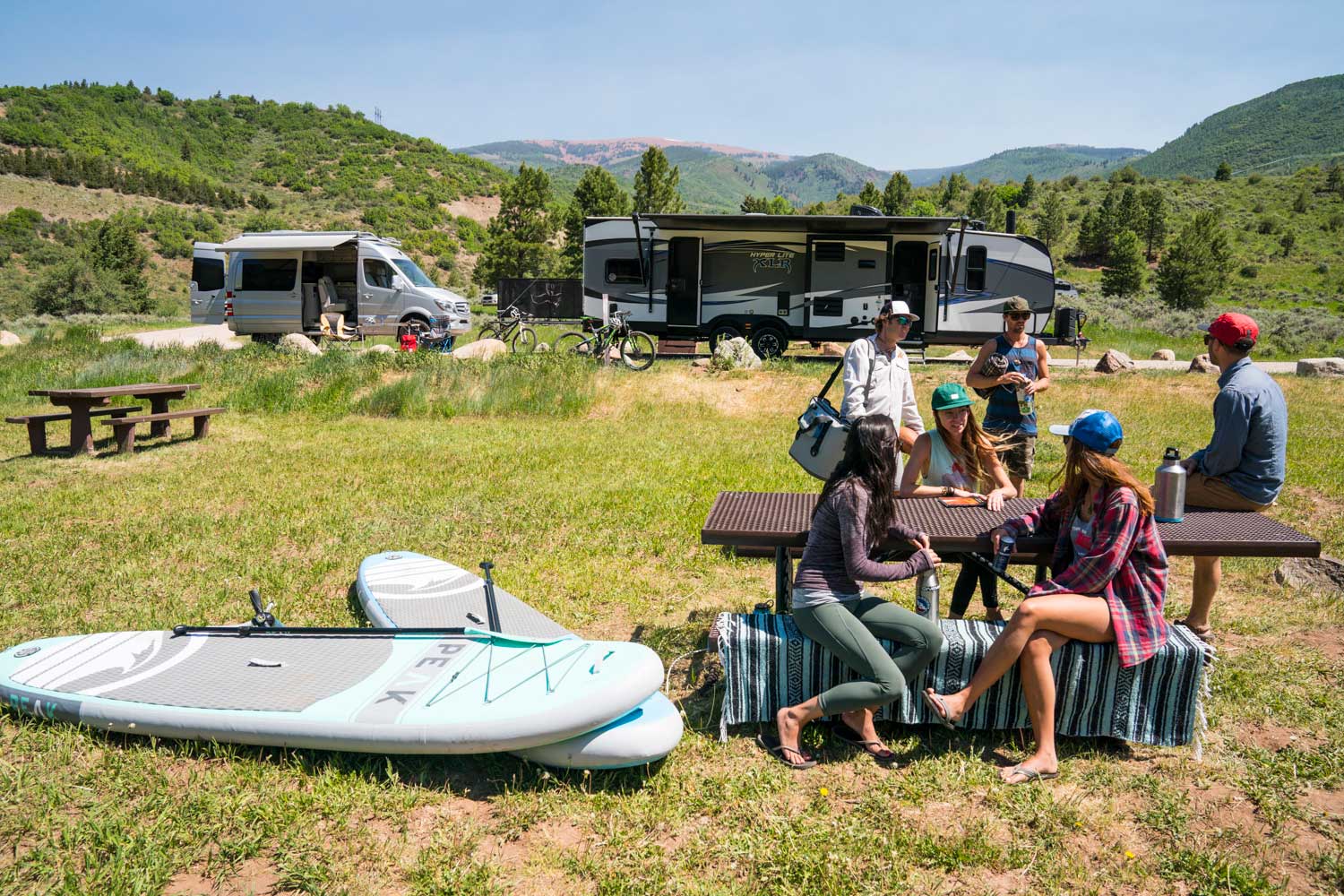 Photo courtesy of GoRVing.com
---
Need More Info?
If you would like more information on using alternative energy sources in your RV, or you'd like to explore our solar panel kits for RV and overlanding rigs, our team of experts is here to help. Please feel free to contact our expert sales team by phone or email to receive more customized support based on your specific situation.Visit our where to buy page, tell us what you want to power and we'll help you with the rest!  
#samlexamerica #samlexsolar #samlexpower #solar #solarpanels #liveoffgrid #offgrid #alternativeenergy #cleanenergy #nanogrid #renewableenergy 
Sources:
www.rvia.org
www.airstream.com
www.thorindustries.com
www.gorving.com