RV Boondocking just got easier with Samlex SOLAR + POWER BUNDLES
Samlex introduces the newly launched RV Solar + Power Bundles to simplify the process of choosing a solar system for your trailer, van or camper.
With over 30 years in the power conversion industry, Samlex understands the most common challenges and questions that come up when customers are designing an off-grid electrical system for their RV. To simplify this process, Samlex has designed three Solar + Power bundles to fit the most common RV lifestyles. From weekend warriors, extended family road-trips or full-time RVers, Samlex has a complete energy solution to efficiently charge your batteries and power your fridge, lights, laptop, coffee maker, blender and more.
Depending on your type of RV, power needs, number of people, and number of days away, your RV Dealer can recommend a bundle in either 200W, 400W or 600W that comes with everything needed to start boondocking in your RV.
All bundles include 200W solar panel kit(s), 30A charge controller, the NTX power inverter or EVO™ inverter/charger, remote control, SunCharger Battery Maintainer, plus all installation hardware, fuses, and cables required for a smooth installation at your preferred Dealer.
Match your RV lifestyle to find your Solar + Power Bundle
EXPLORE 200W Bundle

This bundle is ideal for weekend warriors with small trailers, truck campers, and SUVS with limited rooftop space. You'll be able to power your basic necessities on the road, no matter where the adventure takes you.
200W – Basic power needs: Perfect for powering lights and charging laptop/phones for 2-3 days. Expandable to Share and Enjoy with addition of solar panels.
See what's included in the EXPLORE 200W Bundle
---
SHARE 400W Bundle

Take your travel trailer or campervan off the grid! The SHARE 400W Bundle is great for digital nomads or for those who enjoy a few luxuries while camping for 4-7 days at a time.
400W – Medium power needs: Power all the basics + small RV fridge, laptop or TV for 4-7 days. Expandable to Enjoy bundle with addition of solar panel.
See what's included in the SHARE 400W Bundle
---
ENJOY 600W Bundle

Enjoy all the comforts of home in your RV while off-grid for a week or more. Whip up a smoothie, turn on the air conditioner or sit back and enjoy movie night with the kids, powered with free energy from the sun.
600W – High power needs: Add more appliances and keep your batteries charged while taking an extended trip of 8+ days.
See what's included in the ENJOY 600W Bundle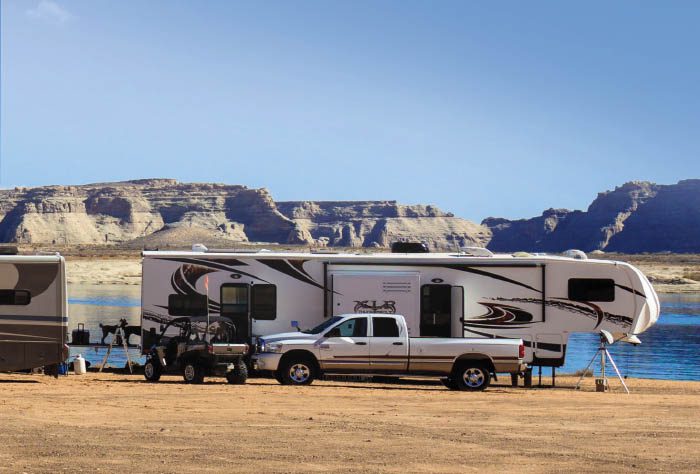 Extend your stay, and battery life, with energy from the sun
It's never been so easy for RVers to experience the freedom of boondocking. Don't limit yourself to overcrowded campgrounds and the stress of reserving a site with hookups. Pack up your trailer and your crew, and go find a remote location where you can enjoy the sounds of nature, instead of the constant hum of a generator. With self-sufficient power you can be independent of the grid and have clean, renewable energy for your electrical necessities, anywhere and anytime.
---
Ready to take your RV off-grid? Contact us to find a Dealer or to get more information on Samlex Solar + Power Bundles.